Centurions still have it
Published on 11/09/2019 10:11:16
There is no question about the mega success of 20p roulette on Spincastle. For over 3 years has been the above mentioned casino game our most successful one. And we are talking about the list of 2090 most dominant casino games.
No matter the dominance, 20p roulette is only taking less than 5% of our incoming traffic and people play it for 2:30 minutes in average. There has been a significant number 2 within the chart and people play it for 1:20 minutes. The name of the casino game is Centurion. There is actually one misleading part of the mentioned game - there are 2 of them.
Centurion and Centurion Free Spins are actually 2 different games
Most of you, searching for Centurion know that indeed. The 2 games are to be found in the UK land based gambling shops among the stack of FOBT. There is a dispute about which one is more popular. The fact is, people put into Google much more the key words Centurion slot and that takes you to the basic version. Only some players feel like typing extra words and that leads us to a question that is not easy to answer. What do players prefer?
Let us look at the numbers again. The Centurion Free Spins version of the popular video slot takes only 15% of the traffic of both games, but players tend to play it for almost a minute longer.
What is the difference?
Just look at the screenshot and from the very first moment you will see, there is not much of a difference. Looks like there is the same template and only some make up makes the change.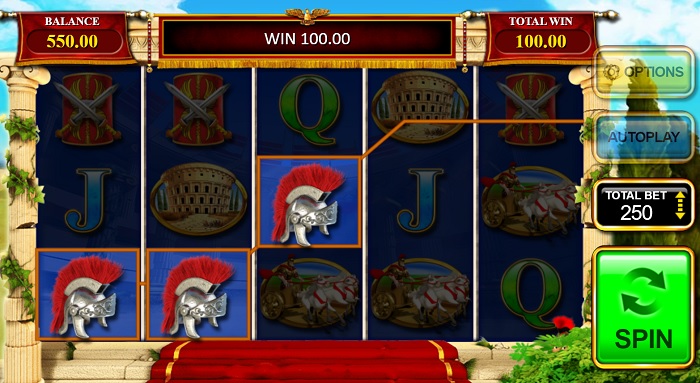 First the Centurion slot play area and now the Centurion Free Spins.
Really like twins I would say. No matter the simplicity, both of the FOBT are very popular in the British online casinos. Now there are not many pages where you can play them for free and in the real casinos, the chance is zero. You can take the advantage of internet possibilities, verify your age (once launching the games) and play Centurion slot. Do you prefer the other version? In that case play Centurion Free Spins and enjoy the free to play version of the highly popular casino slot.
But be careful! Free to play games are just a step ahead of "real money play" and gambling can be a bitch if you lose control!