Roulette Strategies and How to Play Them
Published on 24/11/2015 18:15:28
ROULETTE STRATEGIES AND HOW TO PLAY THEM
Roulette, named after the French word for _little wheel_, is one of the most popular casino games in the world.
(Image Source: www.iloveroulette.com)
Played by millions, this is a game that complete novices can have a go at, which is often the appeal for many first timers.For those of you who take your casino playing a little more seriously there are some strategies you can adopt to give you the best chance of success at the tables. There are many different types of strategies that you can try, and we have selected three popular methods that take very different approaches.
THE RULES OF ROULETTE
If you're already familiar with the rules of roulette you may want to skip onto the next section of this article. For anyone not familiar, read on.
First of all, it's important to know that there are lots of different types of roulette games available to you. Generally, in casinos and online, you will see three varieties of roulette including American, European and French, and you can check out our A-Z of roulette games if you want to know them all.
American roulette, or double zero roulette, has 38 numbers on its wheel, including 1 to 36, 0 and 00. European roulette, or single zero roulette, has 37 number on its wheel, including 1 to 36 and 0. French roulette has the same wheel as European roulette but here there is a different kind of betting field. In all cases, the way you play roulette is the same.

(Image Source: commons.wikimedia.org)
With roulette, you buy in and receive your betting chips; each player at the table has a different colour to make placing bets easier for everyone. The object of roulette is simple; pick the winning number or colour that appears on the roulette wheel after the spin. To get to this point you place your chips on corresponding numbers on the table, making a bet on your pick to be the winner. You can choose combinations of numbers, the colour or whether the number is odd or even.
There are different types of roulette bets you can make, such as: straight up, split, line, corner, basket, double street, outside, red, black, odd, even, dozens and columns - and they all pay out different odds. So, there's a lot to choose from and a lot to learn, so while you're getting your head around the rules you may want to have some practice at a table where you don't have to play with others. We'd suggest checking out some single player online roulette games.
THE JAMES BOND STRATEGY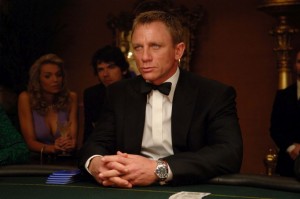 (Image Source: www.24hourcampfire.com)
The James Bond roulette strategy is actually pretty simple. It may not be what you would expect from James Bond, but author Ian Fleming claimed that you could win the "price of a good dinner" by using this method.
If you want to try it, you need at least $200 and you will be playing a column system. First, you need to place $140 on high numbers, 19-36. Then you need to place $50 on six numbers, 13-18. And lastly, you make an insurance bet of $10 on 0 (if you are playing American roulette, split it across the 0 and 00). If the numbers 1 to 12 come out, then you lose and you should move on to the Martingale Strategy.
THE MARTINGALE STRATEGY
The Martingale roulette strategy is probably the oldest betting strategy ever devised, and it is also the strategy most used by novice roulette players. Introduced by Paul Levy in 1934, with this strategy you need to find a table with a small minimum bet and a high maximum bet. Start small so you have the opportunity to double your losing bets.
Generally, the system is played with even money bets such as red or black bets, or odds and evens bets. Put simply, with the Martingale strategy you double your bet after a loss, which is why you need to find a table with a small minimum bet and high maximum bet. The idea with this system is that by doubling your bet after a loss you will eventually win enough to cover any losses you have made on previous bets.
For example, if you start at $1 and you lose four bets in a row but win on the fifth your running total loss will look like this $1+$2+$4+$8= $15 but if you win the fifth bet you will win $16, giving you a profit of $1 in total.
THE FIBONACCI STRATEGY
(Image Source: genius.com)
This system is named after Leonardo Pisana Bigollo, AKA Fibonacci, who was an Italian mathematician who discovered a sequence of numbers which are now named after him- The Fibonacci Sequence. The sequence is generated by adding the two last digits together: 1 - 1 - 2 - 3 - 5 - 8 -13 and so on.
This roulette strategy advises that you bet by adding the last two bets together. Like the Martingale strategy, this is an even chance betting system so you can place your bets on red or black, odds or evens, 1-18 or 19-36. Start small and place a bet of $1; if you lose this, bet again with another $1. If you lose again, the next bet should be raised to $2. When you win, you need to move back two bets in the sequence.
The advantage of this betting system is that you can lose more bets than you win and still make a profit. The disadvantage is that the further you go down the sequence, the more money you lose.
All of these betting systems are widely used and the more you practice, the better you will become at them. Of course, choosing your own personal favorite betting system is up to you, and everyone has their own style and preferences. If you want to practice roulette for free then we have many online games that you can play while you master your chosen system.